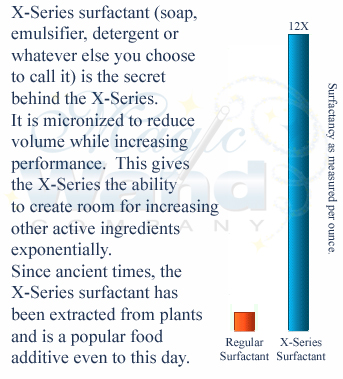 Magic Wand Company was founded on the principal that when you bring the chemist and professional carpet cleaner together, the impossible can become possible. For 2010, we introduced a full line of Green Packs that were pre measured bags that dissolved completely in water. For the last 2 years, we have been working on making our products so concentrated that the shipping cost is virtually eliminated. The result is our X Series of chemicals. Made with using innovative surfactants to reduce the volume and increasing everything else. Some products we could only concentrate two times, but some we could actually concentrate up to 240 times. Results:
Small Containers = Lower Shipping, Less Packaging, Less Environmental Impact – UPS drives less weight around, you drive less weight around in your vans, Less Storage Cost & of course Lower Product Cost!
Our X Series meets all the Green Standards:
When the X Series is used according to directions, it is not toxic to aquatic life, is biodegradable in
accordance with the OECD definition, and does not contain prohibited
ingredients. The X Series meets established environmental
profiles for removal of at least 80% of the particulate soil (ASTM)
D4488-95, A5, is non toxic to humans, does not contain any ingredients
that are carcinogens or that are known to cause reproductive toxicity,
is not corrosive to the skin or eyes, is not a skin sensitizer, as
tested by the OECD Guidelines for Testing Chemicals, Section 406, is not
combustible, does not contain substances that contribute significantly
to the production of photochemical smog, tropospheric ozone, or poor
indoor-air quality, and meets established volatile organic content (VOC)
limits. No Alkylphenol Ethoxylates (APEOs), Butyl and no Phosphates. X-Series protectors (water and solvent) meet the under 6% VOC limits in every state.
"I called and talked to dee dee to order my grease eater as usual
fantastic product by the way ive been using it for years now, she told
me about the new super concentrated X-Series, 1 tbs to a gallon which I
thought to be a little leary, so dee dee said just to try one container,i
usually order many of the big pails so I said sure ill give it a try,
well they did it again I use a 3 gallon pail and I used only 3 tbs and
yes remarkable results great job magic wand love ur products, for
someone who has cleaned carpets for ov 30 years I try to strive for the
best, sincerely scott grothe ,grothe prosteam carpet cleaning alexandria mn"