Best Carpet Cleaning Chemical.
Grease Eater, the Best Carpet Cleaning Chemical is also the Strongest carpet cleaning chemical you can buy with Enzymes for even restaurant grease.
Grease Eater 2x is a powerful Prespray with a high pH! Great to clean "trashed" carpets and synthetic furniture.
It was invented for restaurant carpet cleaning. But, it works great for any soiled carpet. If there is build-up, "caked on" the carpet, use Trashed High pH 1st instead.
It dissolves stubborn spots and stains so you can rinse them away. It decreases your cleaning and spotting time. Thus, it increases your production and income.

Insanely concentrated.
1 to 128 dilution means that only 1 oz will make a ready to use (rtu) gallon.
A pH of 10 neutralizes the pH faster.
Dirt Busting.
Surfactants loosen up the dirt quickly
Oil Busting.
Citrus (D-limonene) dissolves oil-based stains like grease and oil. It helps break the oily bond associated with Polyester, Olefin (see a Video), Triexta, and Nylon.
Organic Odor Removers.
Oxygen (hydrogen peroxide) makes organic stains, like coffee and urine, just disappear.
Heat Distributing Salts.
Organic salt conducts the heat evenly throughout. Thus, your solution will perform even and stronger cleaning.
Protein Digesters.
Enzymes (natural) are grown specifically for Grease Eater. And, are not made in a lab like competitors. These enzymes, also known as beneficial bacteria, dissolve protein-based stains and odors.
Great fragrance (not just a scent but a perfume) makes it pleasant for you and your customer.
Crystallizers help you and your customers keep the carpet cleaner than water.
Our Founder, an IICRC Instructor, designed this to reduce labor costs in his own carpet cleaning business.
No chemical works better on "trashed" restaurant carpet cleaning and dirty apartments.
Customers say it's the best carpet cleaning chemical.  Not us

"Forwarding results obtained from your chemicals. I wanted to send you some pics of a foreclosure job I did today. Pre-Sprayed with a combination of Grease Eater and the new Surfactant. With a bump of Citrapure …………..Great results. Best Carpet Cleaning Chemical. "Mike Bernth, Carpet Cleaner Puyallup
"This is Brien. Used the best carpet cleaning chemical – Grease Eater. Need I say more?" Brien, Brian O'Brien.
The bomb on commercial carpeting as well.

"Dennys restaurant cleaning using grease eater and citrus, the result was crazy.?" KC&K Carpet Cleaning
"This product rocks. I've tried them all. If you are called to clean super dirty carpets, this is your bomb!" Cassin Rose, Advanced Solutions.
"We've been using Grease Eater in a restaurant called "Egg Haven." It's a breakfast place and we clean it bi-monthly. At one time we were using a rotary machine to get the grease up, but with Grease eater we just use wands because the Grease Eater is doing all the work.
It just makes the job go a lot quicker since we don't have to go over it with the rotary and the wand. It has cut down that job by about 45 minutes."  Mike Elliott, Clean USA, DeKalb, IL
King of Restaurant Cleaning.
"We clean Denny's and Wendy's Restaurants, we don't clean very much residential. With all the traffic areas and the heavy traffic areas, all you really need is the Grease Eater. And it is so concentrated! As little as you use compared to the other chemicals, we used to use. We've actually tried some other brands like Grease Eraser Procyon recently but they just didn't do well and we came back to the True Blue Grease Eater!"
John Glover, The Glovin Group, Kissimmee, FL
Even on Tile and Grout.
"I use Grease Eater on Tile and Grout. I use it for both commercial and residential tile and grout and it cleans 10x better than any other product I've tried!"
Michael Olsen, Olsen's Carpet Cleaning, Carson City, NV
Enzymes "chomp" up the grease.
"We use Grease Eater for pet urine and pet odor. You know that stale odor from a dog sitting in one area all the time? Grease Eater is fantastic to break it up. We pre-spray with Grease Eater and even in the extreme jobs where there is piddle all over the place, we don't need to individually treat each spot.
We've even noticed that when we spray an entire area, the stains will lighten up and even disappear right before our eyes as we watch. We use 3x more then we used to because we have started using Grease Eater exclusively to get these stains out for the ease of use. We also don't have ant Post-Spotting because the stains are gone! One-shot, Boom and knock it out. Best Carpet Cleaning Chemical. Thanks, Taf for coming up with this stuff!"
Dave Johnson, State of the Art Cleaning Service, Vacaville, CA
Some secrets the user must know.
Important note to users: Enzymes contained in Grease Eater are natural. We are the only company in the industry that makes them from scratch. They are grown on a farm in Georgia. This allows for a product that works better. Others use synthetic enzymes. The way to tell what is natural and synthetic is to look at the labels and see if it says anything about how hot the water can be.
Natural enzymes bread and multiply fastest in warm water and die in boiling water. When using Grease Eater for its ability to work best on food-based stains like protein, make sure that the water temperature is less than 180 degrees
"Can we say GREASE EATER? This is a beast of a prespray."
K.Strickland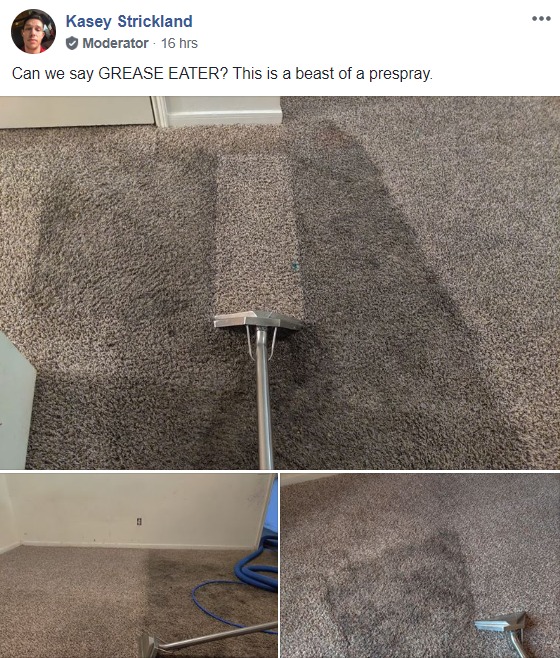 Did you work too hard on restaurant carpet cleaning jobs?  Change that now with Grease Eater and Trashed High pH.
Need a CRI approved neutral pH?  See the Trashed Green Gel here.
Professionals all over agree that Grease Eater is the Best Carpet Cleaning Chemical.