Is pressure washing business a good business to start?
That is one of those questions I get asked the most from people who are looking to start a professional pressure washing business or even to the point of starting to look for a professional pressure washing machine to buy.
I've been in the business for over 28 years, 1st as a professional pressure washer and then as a distributor for professional pressure washing machines. So, I've seen many developments 1st hand. I've seen people start and fail; I've seen people grow their business, and some become millionaires.
Pressure washing business is a growing business. According to Berkshire Hathway's Business Wire, pressure washing business is a $13.5 billion a year business that it projects to grow 4% a year. Any business that has such growth provides opportunities for successful start-up and expansion.
The business has a very low cost of operation as most business operates from home. Professional pressure/power washing company shortage has created high hourly rates — most charging upwards of $200 an hour.
Everyone needs this service, residential home – siding/driveways/decks, Autos, Bus Stops, Parking Garages, Government Agencies, Restaurants – kitchen exhausts, Property Managers and on and on.
$40 million a year income is not unheard of in this business.
We have started many successful companies in this business as we have prepared this package with all the necessary items you need. The best equipment that is least likely to break down and cause a headache – its low cost and will make you the same amount of money like many other most expensive ones. True power washing requires heat as the heat melts away grease to get the job done faster – so we don't consider any cold water pressure washers for you. Knowing most start-up business owners will work from home, we only choose the machines that instantly become portable so you can bring them inside in inclement weather.
So, is pressure washing a good business to start?
I would say, definitely yes!
This package has just about anything you would need to successfully start or expand your pressure washing business. Engineered to utilize the power and performance from the top of the line pressure washers matched with the portability of a utility trailer. The heated machine is run by a Honda engine and comes with a 100 ft hose, an ergonomic spray gun, 5 Quick-Connect nozzles & soap dispenser.
A completely mobile unit, so you don't leave any money on the table.
Includes:
– Honda 4 GPM, 4000 psi pressure washer with heat
– Trailer
– 200-gallon water tank
– 2 hose reels
– 100 feet pressure hose
– 75 feet garden hose
– Gun
– Wand
– 5 quick connect nozzle tips
and more
Free Bonus:
– Oxy-wash
– Power Wash
– Oxy-blaster Low ph
– Pressure Washing Bible

Warranty:
– 3 Year limited Honda commercial engine warranty
– 5 Year limited pump warranty
– 1 Year limited frame warranty
– 90 Day accessory warranty
Specification:
PSI | 4000
GPM | 4.0
Engine | HONDA engine with electric start
Pump | COMET triplex plunger pump
DOT Lighting | Street legal – LED
Battery | 12 Volt
High-Pressure Hose | High Temp 3/8″ x 100′
Water Tank Size | 200 Gallon with steel straps & drain petcock
Wand Type | 48″ Steel with quick connect and threaded M22 connection
Water supply hose reell | Standard
Water supply hose | Standard 3/4" x 75′ hose
Nozzles | 0, 15, 25, 40 and Soap
Frame | Powder coated steel
Tires | 13″
Trailer Size | 9'2″ front to back (4'1″ x 5′ 7″ Platform)
Shipping details: Dimension 80″ x 70″ x 69″, Weight: 1450 lbs, Class 150, NMFC# 177680-02

Best Pressure Washing Trailer For Start-ups with 200-gallon water tank, 4 GPM, 4000 psi pressure washer with heat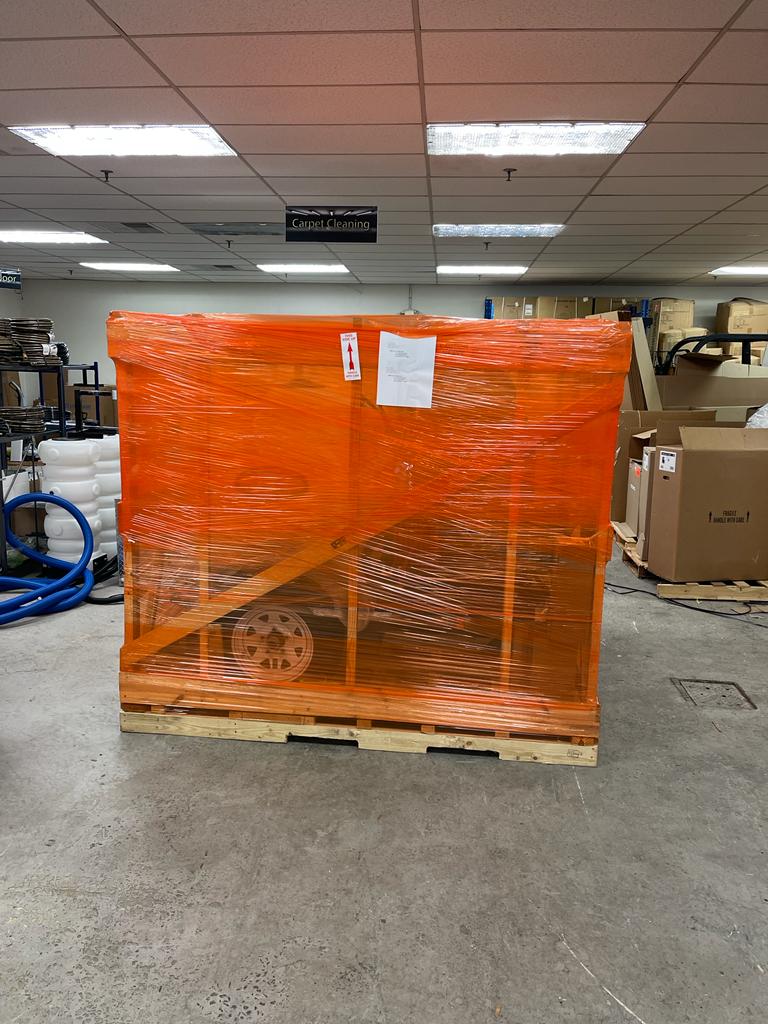 Workhorse Wiring Diagram:

Simplest machine to use:
Taking delivery of your workhorse package:
If you are near any of our offices, we will prep the machine for you and teach you how to use it. If you are far away from our office and have it shipped to you, then you will use the video below to help you set it up for use. If you don't have a commercial address where we can deliver the unit to you, then we can set up for you to pick it up at the shipping company's terminal closest to you. In that case, please take a toolbox with a screwdriver, hammer, and an adjustable wrench to help remove the frame and attach the hitch. Then, you can tow it away!
We are available for phone and video chat help if you are going to be using it for the 1st time. Just call 877-926-3748 and ask for a mechanic for the workhorse package. 🙂
The Work Horse Package, Pressure Washing Business, Power Washing w/ Heat. 4 gpm, 4000 psi and up to 230 degree heat. Tailer, machine & accessories complete