#1: TUCKER 3 STAGE RO/DI CART

Looking for an RO/DI cart that produces more water than any other 40″ RO system on the market? You found it.

Tucker? 3 Stage RO/DI Cart – MADE IN USA

The Tucker Cart is a 3-stage Pure Water system comes on a powder coated lightweight steel frame made for years of abuse.

Large pneumatic tires help you navigate all terrains.

System consists of:


(1) Carbon Pre-filter for removal of harsh chlorine
(1) ULTRA LOW PRESSURE reverse osmosis membrane – available only from Tucker. This RO produces more water than any other membrane on the market today.
(1) Refillable DI Filter for an ultra pure final polish of your pure water

ALSO INCLUDED –

50 feet of 3/8″ premium pure water line to go from the outlet of the RO/DI system to the pole hose
Wrenches for opening filter housings
Replacement o-rings for filter housings
TDS meter for checking the water quality
Preservative for long term winter storage of RO filter

This system as it sits is ideal for cleaning up to approximately 40′ on good line pressure.

If you add an electric or battery booster pump to this system you will easily clean to 60′ or run multiple operators off this same system.

Ideal to lay the system down during usage.
Best carbon fiber water-fed pole at an exceptional value?

The Tucker ECO line of carbon fiber poles are just that! The Tucker? ECO – 30 is made of a high grade carbon fiber material that very comparable to many of the UK imports today.

It features the the RHG plastic clamping system that is bolted on rather than glued like many other products today.

The clamps are easily adjusted and operate smoothly and easily. No gluing, ever.

The ECO-30 can be added to at a later date should you decide you need more length. This is possible up to 50′!

This pole comes complete with:

40′ of Tucker premium quality pole hose

The Reach/Around Gooseneck

The world famous Tucker dual trim nylon brush

Male and female quick connect garden hose fittings with a built in on/off valve.

SPECS: Collapsed Length 78″

Extended Length 26′

Weight 4 pounds w/brush
#3: HAND CARRY HOSE REEL
This hand carry reel is awesome at creating some distance between your pure water system and your pole hose.

Connect the pure water outlet of your pure water system to the inlet of this hose reel.

It features a lightweight aluminum frame. Worry free hand crank reel and 100 feet of premium 3/8″ internal diameter pure water hose line.

The 3/8″ ID hose line is ideal to carry pure water from your system to the pole hose.

Female garden hose inlet on the reel and male garden hose outlet on the end of the hose.


Bronze wool pad great for polishing glass surfaces. Unlike steel wool pads these will not rust. Use with or without doodlebugs!
This holds bronze wool pads for scrubbing hard to remove substances off windows.
#5: SCRUB PAD HOLDER
Looking for a way to remove stubborn stains that a brush alone can not remove? This doodlebug screws onto the red tip that came with your RHG pole. Attach to it any non-scratching pad like bronze wool or a white scrubby pad safe for glass.
"Water fed making me some pocket change….??.!" O C Beautiful, Jakub.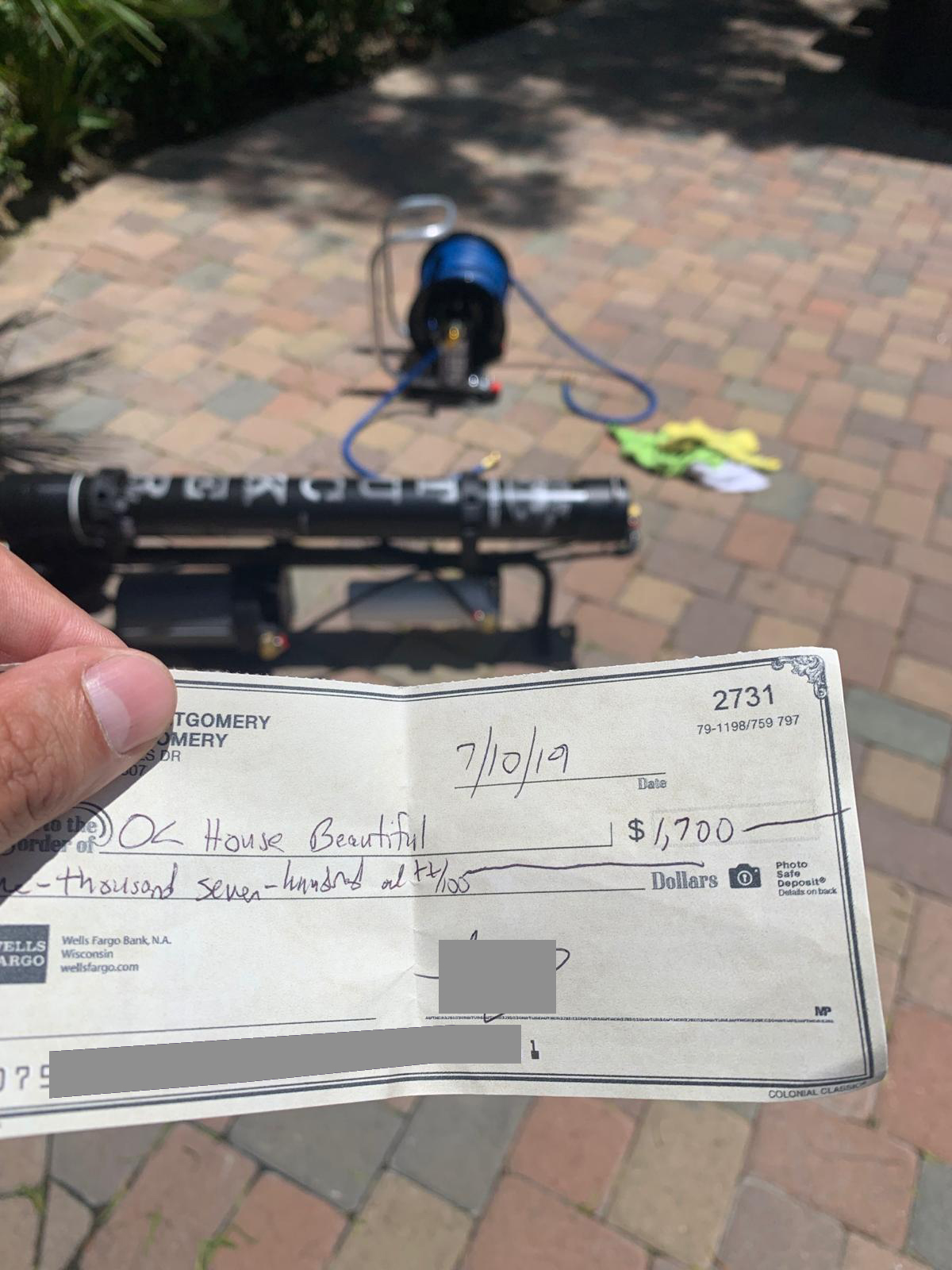 "We do windows every 6 months. The water fed cut it in half the time – $1700 in 4 hours!" O C Beautiful, Jakub.