Cleans Man-Made Tiles (Ceramic, Porcelain & Italian Quarry), Natural Stones (Marble, Granite, Travertine, Slate, Terrazzo, Limestone & Sandstone), Clay Stones (Saltillo and Terra Cotta) & Grout (Cementitious and Epoxy). Also a "booster" for dirty carpets.
Description:
2 times more concentrated! Oxy-Blaster 2x is an all purpose pre-spray that not only dissolves the filthiest dirt fast, but also has oxygen that gets absorbed into the grout and stones to produce color safe oxygen bleach that safely bleaches stains soaked into grout and stones. Made for use on all man-made and natural stones. When used in proper dilution as a "booster" for carpet cleaning, Oxy-Blaster makes short work of all organic stains like coffee and urine. pH 12.
Directions:
Ultra Concentrated. Always pretest in an inconspicuous area for colorfastness before starting. In a "pump-up" sprayer 1 oz to gal of water. In regular Hydroforce fill with water then add 10-12 oz. Give it 15-min dwell time. Keep it wet. Do not let Oxy-Blaster dry. Scrub grout with brush if necessary. For dirtier grout increase dwell time or repeat. Note, if there is buildup on the hard surface and grout, use Trashed High pH 1st to clean the build-up. Oxy-Blaster is not made just for build-up, although it does work on it. It has to get absorbed into the grout and stone and produces oxygen to remove stains. Use 800-1450 psi depending on the type of stone and the condition of the grout. As a booster for "trashed" carpets add 1 oz per gal to your alkaline prespray & 3-6 oz in reg Hydroforce in addition to your pre-spray. Also works on air-filtration. Not for use on furniture.
Blue Scoop is 1 table spoon which equals 1/2 oz.
Helpful Hints:
If the grout looks "blotchy" after cleaning with Oxy-Blaster, first reapply Oxy-Blaster again, let it dwell 15 minutes and keep it wet. Then use a 1-jet tool at around 1200 psi and run it on the grout lines (assuming that the grout is sound). Sometimes, no matter how hard you try to clean Cementitious grout lines, they will still show some markings. One way to get that out is by using Oxy-blaster low pH. Which is an acid and will remove these stains by etching them. Apply by dipping a towel in the mixture and then running it on the grout lines. Rinse out within 2 minutes. Always test in
an inconspicuous area and follow all directions of caution on the bottle. There are some forms of grout that do not clean even using this procedure, for those use grout dyes (also available through us).
Limpiador para losas y lechada que no decolora. Tambien funciona con alfombras!
Descripción:
Oxy-Blaster 2X se usa para quitar las manchas de la lechada y para limpiar losas naturales y sinteticas. Oxy-Blaster 2X es una mezcla de tensoactivos con lejia oxigenada que no decolora.
Mientras se mezcla con la lechada y las losas naturales, produce oxygeno para quitar hasta las manchas mas graves.
Direcciones:
Asegurar antes de usar que no decolore y que sea estable. Introducir en la pistola pulverizadora 1onzas fluidas, 10-12 onzas fluidas para hydroforce (1:9). Dejar por 15 minutos, manteniendo mojado el material. Ahora empieza la magia. Durante la espera, fregar la lechada y los bordes. Para los mejores resultados, usar un mecanismo giratorio para el enjuague y extraccion. Si persisten las manchas, repetir los pasos y usar un mecanismo de surtidor singular como Raptor o Gekko para hacer mas presion sobre la lechada. Repetir si es necesario. Presion optima para losas naturales con lechada de cemento o resina epoxi: entre 400 y 800 psi. Presi?n ?ptima para losas sinteticas de ceramica, porcelana o cantera: entre 800 y 1400 psi. Para las alfombras, apadir 1 onzas fluidas por cada galon de roceo previo, 3-6 onzas fluidas para un hydroforce normal. Debido a su densidad, es normal que elproducto se pecipite.
"I am writing to let you know that after using your cleaning products Oxy-Blaster and Magic Potion I am completely satisfied with the results of both these products.
The first product that I tried was Oxy-Blaster on ceramic tile and grout, it is the most effective product that I have used on this surface. I spray it on, agitate the heavily soiled grout lines with a brush and simply and easily rinse away soil with my truck mount.
Magic potion works equally as well on carpet and upholstery, the moderate pH of this product surpasses other high pH products that I have used. It has no odor and is not noxious to work with, which is important to this carpet cleaner. On Olefin Berber carpets I pre-spray using my Hydro-Force (which I keep ready mixed as my general cleaning prespray) and then I spray over this with Oxy-Blaster using a pump-up sprayer. This allows me to fresh mix Oxy-Blaster only as needed. This works to boost the Magic Potion on difficult soil levels.
And here is the really good news, these two products replace 5 products I used to carry on my truck. Thank You."
Ronald Brunette, Best Way Carpet Cleaning, Florida.
"We use Magic Potion & Oxy-Blaster exclusively in our business. We save a ton on the cost of liquid chemical we used to use before. The way we use it is, we first pre-spray with Magic Potion. If anything does not come out, like in front of couches, we boost it with Oxy-Blaster. The other day, we cleaned a white carpet that had hanging blinds by the window that had created black air-filtration between the window and blinds. We sprayed it with Oxy-Blaster, gave it 15 minute dwell time, came back and rinsed it out. The stains came right out. 99% of all stains come right out. We don't have to worry about anything. These two products are great!
Here is a before and after of a tile and grout cleaning job I did. I thought you would like to see it."
Aaron Mercer, Advanced Air.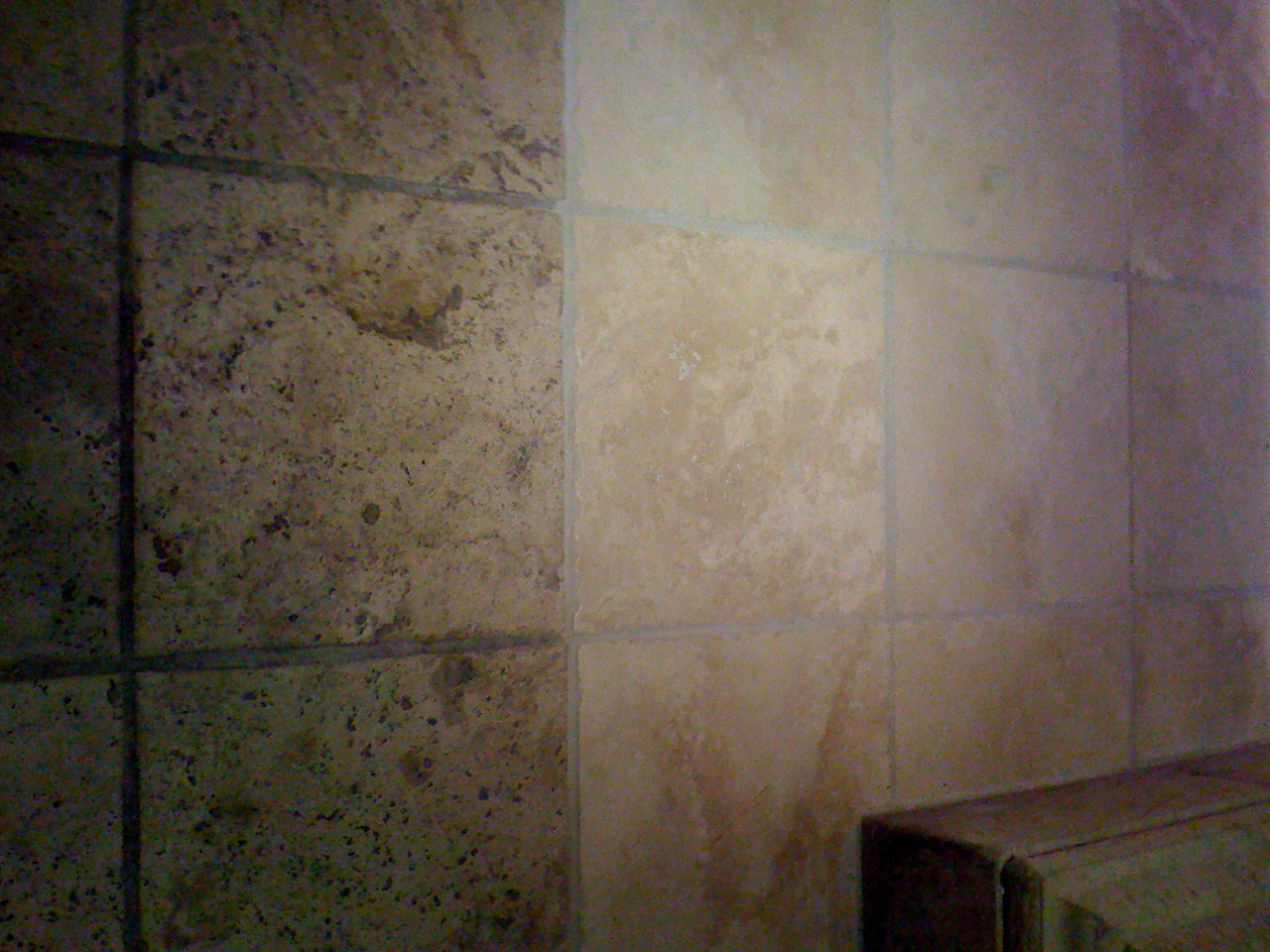 "There is this tile and grout I do around a pool. I've tried everything on it. I called your company and you recommended Oxy-Blaster. I sprayed it on and was waiting for it to work and all the time thinking to myself it wasn't going to work. Just like all the others. But, to my surprise, it took everything out. It was amazing!"
Ron Fox, Fox Commercial Cleaning, PA.

"I just cleaned my second residential tile floor using OxyBlaster and OxyBlaster Low Ph and the results were phenomenal. The tile and grout cleaner I was using had a high foaming ingredient and the excess foam caused my dump tank overflow switch in my floor machine to cut off and I was continually having to stop cleaning and empty the holding tank manually. I switched to OxyBlaster and on the first job using it I cleaned for two hours with no interruption and no dump tank overflows. I'll continue to use your product because it is the best I have ever used. NuLook Hard Surface Cleaning and Restoration, Inc. Donald R. Lamkin Corpus Christi, TX
"Se hace el trabajo más rápidamente por el balance concentrado de surfactantes y cloro oxigenado.
Hecho exclusivamente para máquinas de limpieza de alfombras que se usan ahora para limpiar superficies duras.
Formulado por el Dr. Aziz, químico con título de PhD, y probado en la práctica por limpiadores profesionales de alfombras.
Ultra concentrado.
Para rociador de bombeo, use 1.5 oz por galon.
Para presión hidráulica, use 18 oz.
Dejese 5 a 15 minutos de reposo.
Para piedras naturales, si las manchas son muy profundas, déjese reposar por 15 minutos para que el Oxy-Blaster pueda absorberse y se blanquean las manchas que hayan penetrado hacia adentro.Como realzador para alfombras, añadir 2 oz en rociador de bombeo, y entre 4 a 8 oz en fuerza hidraulica ademas de usar su rocío previo regular.
pH 12. Oxy-Blaster no es un cloro dañino cuando se usa en concentraciones adecuadas.

Haga clic aquí para la hoja de medidas de seguridad MSDS"
"Le estoy escribiendo para informarle que después de usar sus productos de limpieza Oxy-Blaster y Magic Potion, quedó completamente satisfecho con los resultados de ambos productos.El primer producto que probé fue el Oxy-Blaster sobre mosaico de cerámica y cemento, es el producto más efectivo que he usado sobre esta superficie. Lo aplicó a manera de rocio, agito las líneas de mugre pesada en el cemento con un cepillo, y puedo enjuagar fácilmente la mugre con mi equipo de camion.La Magic Potion funciona igualmente bien sobre alfombra o tapicería, el pH moderado de este producto excede otros productos de pH elevado que he usado antes. No tiene olor y no es nocivo para usarse, lo cual es importante para este limpiador de alfombras. En alfombras de Olefin Berber, rocio previamente usando mi Hydro-Force (que ya tengo mezclado desde antes como rociador previo general para limpieza) y luego roció sobre esto con el Oxy-Blaster usando un rociador de bombeo. Esto me permite mezclar Oxy-Blaster fresco solo cuando se ocupa. Esto sirve para realzar la Magic Potion cuando es mugre pesada.Y esta es la noticia realmente buena, estos dos productos reemplazan a 5 productos que yo acostumbraba llevar en mi camión. Gracias." Ronald Brunette, Best Way Carpet Cleaning, Florida.
"Nosotros usamos Magic Potion & Oxy-Blaster exclusivamente en nuestro negocio. Nos ahorramos un montón en el costo de químico liquido que usabamos antes. Lo usamos de esta manera: primero rociamos previamente con Magic Potion. Si algo no sale, como en frente de los sillones, lo realizamos con el Oxy-Blaster. El otro día, limpiamos una alfombra blanca que tenia cortinas de tiras colgantes junto a una ventana que había creado filtración área negra entre la ventana y la cortina de tiras. Lo rociamos con el Oxy-Blaster, lo dejamos reposar por 15 minutos, regresamos y lo enjuagamos. Las manchas salieron totalmente. 99% de todas las manchas se limpiaron. No tenemos que preocuparnos por nada. Estos dos productos ? son maravillosos!" Aaron Mercer, Advanced Air
"Tengo un poco de mosaico y cemento alrededor de una alberca. He tratado de limpiarlo con muchos productos. Llame a su compañia y ustedes me recomendaron Oxy-Blaster. Lo rocío y estaba esperando para que funcionara, pensando que no iba a servir. Igual que todos los demás. Pero, me sorprende bastante cuando lo limpio todo. Fue increible!" Ron Fox, Fox Commercial Cleaning, PA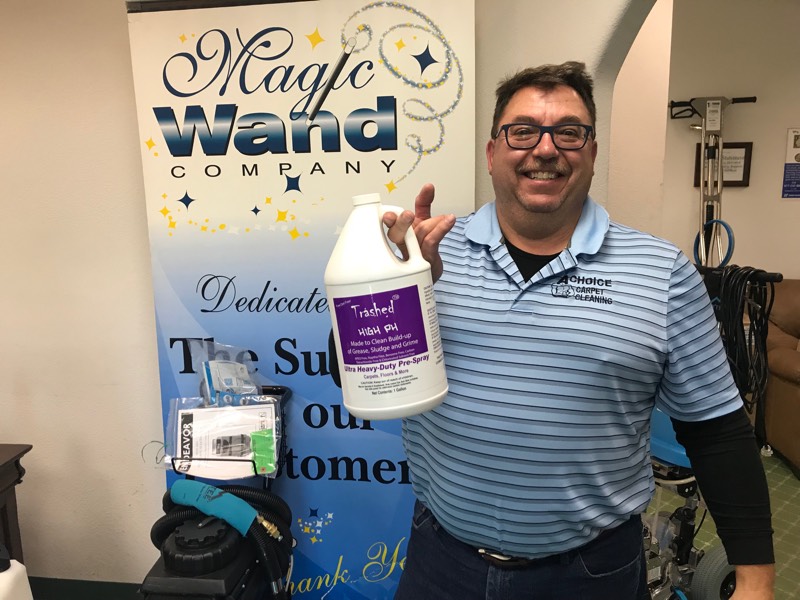 A Choice Carpet Cleaning
"I had to clean this filthy carpet and I talked to you guys and you suggested using the Trashed High PH with Oxy-blaster. Look at the results. It all just peeled off!"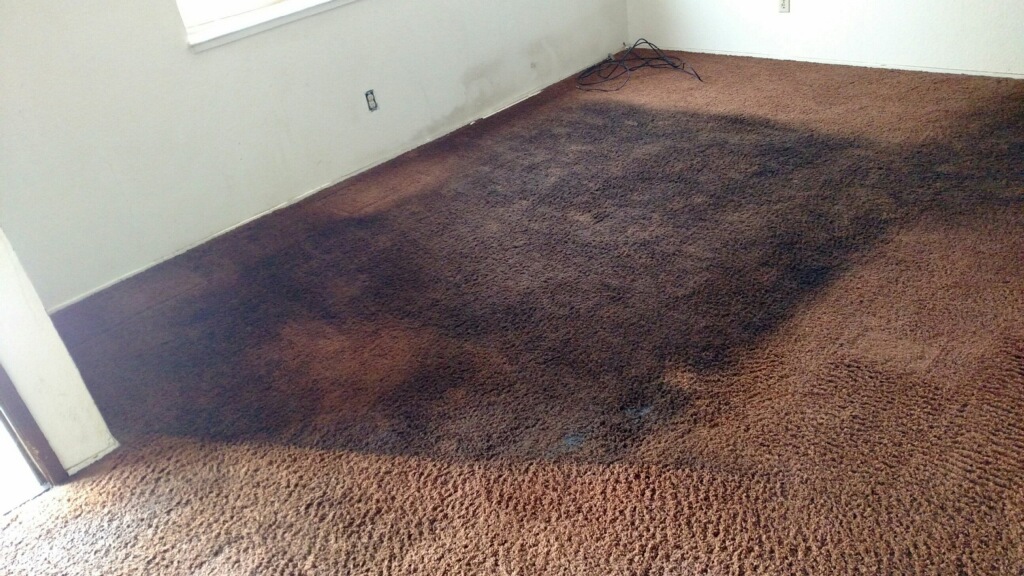 *The Description above is for the 2x Concentrated version of Oxy Blaster. The Old Version is still available. Directions are slightly different for the Old Version, simply read and follow the label.