Face recognition and thermal detection terminal kiosk -Warden
Instantly detects people (mask or no mask) & reads skin temp.
Used in schools, government buildings, small to large companies & anywhere security & safety is needed.
Can be used in aisles, gates, desks, doorways & any controlled entrance or area.
Automates detection & record keeping with accuracy to save thousands in wasted labor costs.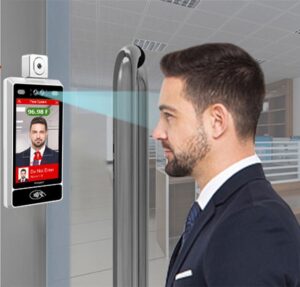 Quick Facts:
High DPI touch screen with touch-less face & temp detection.

Infrared cam provides industry-leading accuracy.

Wireless connection to PC & network – ethernet, WiFi & bluetooth.

Records info on all of your devices, including it's own hard drive.

Built-in access ID card reader, 4G & NFC support & CNF support.

Fast processor provides fast 1-second detection.

Recognizes & stores 30,000 faces.

Video & voice call between your pc & kiosk terminal.

Customizable, you can even add your logo.

Lots of methods to connect. See the picture of the cables above.

Built-in alarm – turn on or off as needed.

Temperature range: 22°F-113 °F.

Touch-less face and temp detection.

Recognition distance: >= 0.5 meters / 20 inches Inch.

1-year warranty (if we can't fix it, then we replace it).

We are a US company with multiple locations across for quick delivery & service.

FREE set-up help – our techs will take care of any issues you may have during installation.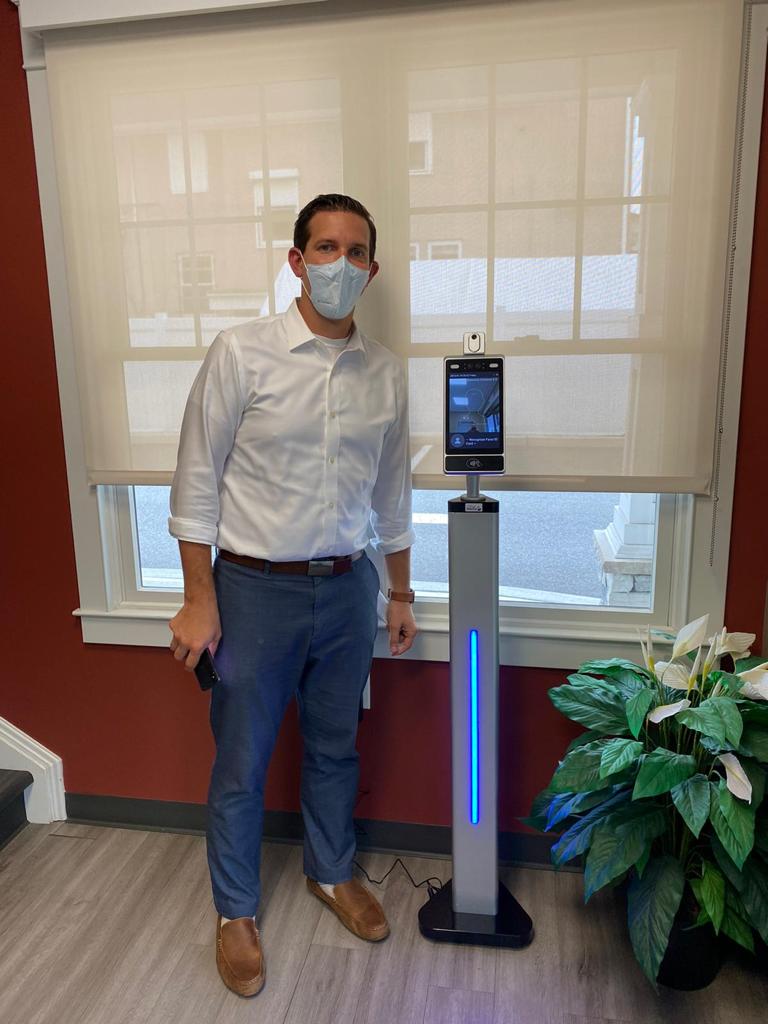 Magic Wand Customer – Dr's Office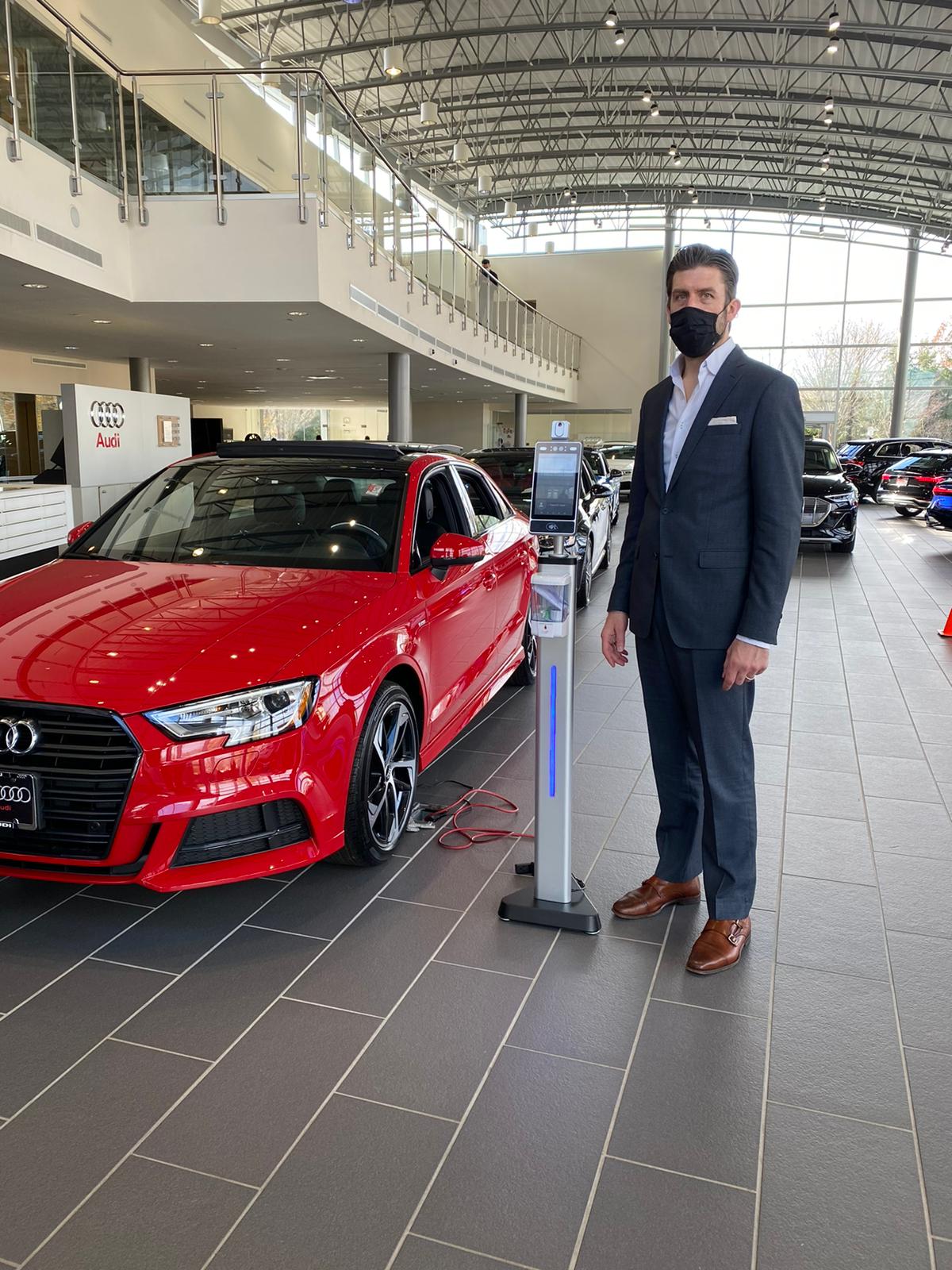 Magic Wand Customer – Audi Dealership
See what Customers are saying:
"I own a chain of Montessori Schools in the Northeast US . This is my 6 month experience with dealing with Magic Wand.
When the pandemic 1st hit I like others was looking for chemicals and tools to keep my facility free of Covid. My 1st few purchases were with other companies that really let me down. For example, I bought a UVC light from online stores that did not even have the items in stock and dropped shipped them from China and elsewhere. My orders were 2 to 3 months late and the items were just destroyed during the shipping. There was no support and even a human to speak with. Then I decided to try Amazon. They showed they had the items. They did not. I received my items months after with no manual or support. There was no one to ask a question. The Amazon seller knew less about the product than me.
After these experiences, I started asking around to see who other schools in my area were using. This brought me to Magic Wand. They answered the phone, they had online chat, were in the US, they had inventory and they packaged the items well. On one occasion, some light bulbs broke in shipping, they were promptly replaced.
For the last 6 months, I have bought everything I need for my infection prevention from disinfectant to face recognition kiosks from Magic Wand. When I bought my 1st kiosk, I was able to call a tech, Franklin, at Magic Wand for questions about setting up and how to use the features. He even dialed into my computer and fixed my wireless network connection error. I hope you will find my experience helpful when making your selection of who to go with for your purchase."
Kevin McMann, Rise Montessori Corp. 01-04-2021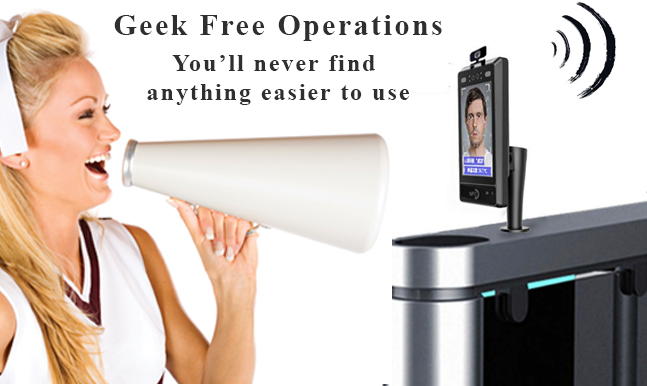 You don't need to be a Geek to use our kiosk, but if you are, see the product specification here.
1-year warranty. Parts and labor. If we can't fix it, we will replace it!
FCC Approved.
See how it works in real life:
Looking for an option this kiosk doesn't have? Check out our other popular model options:

Frequently asked questions:
Does this go on a table or on the wall?
There are 4 configurations available, just the kiosk itself, wall mount bracket, table top base, or full stand.
Am I able to access/export the data/results?
Yes, there's an included website/platform you can download from this listing - see above. There's also a step by step manual on how to download.
How close to the scanner do you have to be for accurate reading?
Does it alarm when someone has high temperature?
Yes. One of the features is that it gives you a warning message of abnormal temperature and it also reminds you to wear a mask if you're not wearing one.
Is there live monitoring of the results?
Although it's not technically "live", after someone scans you can press the refresh button on the platform and it shows up within 2 seconds.
Can more than one person access the website at the same time?
Yes. Multiple people can access the website/platform at the same time.